Art piece created by local Metis artist Carla Joseph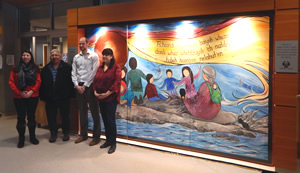 On February 23rd the Prince George and Area Aboriginal Health Improvement Committee (AHIC) unveiled a new art piece at the University Hospital of Northern BC (UHNBC). The art piece, created by local Metis artist Carla Joseph, acknowledges Lheidli T'enneh traditional territory and welcomes Indigenous and non-Indigenous Peoples to the site.
Aboriginal Health Improvement Committees are action-oriented groups that support improved health and well-being with Indigenous Peoples and communities through innovative and collaborative local initiatives. Many of these initiatives are focused on cultural safety.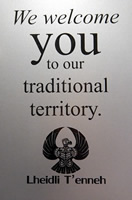 In 2015, the PG and Area AHIC identified the need for a territory acknowledgement at UHNBC. The AHIC committee worked with Lheidli T'enneh Chief and Council to pursue an art installation with a welcome in Carrier. The intent of the welcome sign is to recognize and acknowledge the traditional unceded territory of Lheidli T'enneh. This art piece and welcome sign is a concrete recognition for all Indigenous Peoples that they are welcome at UHNBC. The sign also invites non-Indigenous people to learn about First Nations in northern BC.
Smaller versions of the welcome sign will be reproduced and distributed to various health centres and Northern Health facilities around Prince George. The original art piece will be on display in the lobby of UHNBC.
For more information on AHICs, and to see more local cultural resources, see the Aboriginal Health Improvement Committees section of this website.
---
Additional news stories: Northern Health | CKPG today | Prince George Daily